Name: Avalon (Avvi) DeLancey
Age: 14
Eyes: Big and very dark blue.
Hair: Long and a red, auburn colour.
Skin Color: Pale, but her cheeks are always rosy coloured.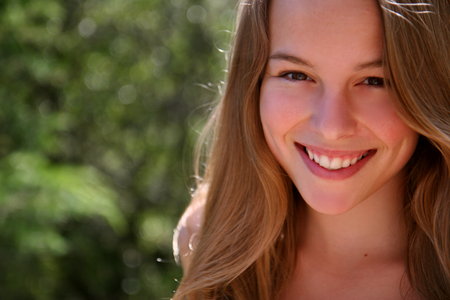 God
Titan Parent: Eos
Mortal Parent: Clyde DeLancey
Pets: None
Skills: Morning is her favorite time. Rises and sleeps with dawn and dusk. Is always happy and just has a colourful aura about her.
Weapon: A rosewood staff called Aurora. She doesn't like to fight.
Powers: Whenever she's in the room everyone tends to wake up. Like her mother, she's strangely pretty, with rosy fingers that are very light at the touch. No one is truly in the dark with her around, because of her aura that surrounds her. It is only seen at dawn and night, so nobody tends to be around then.
Flaws: Trusts people too easily. Doesn't look before she leaps.
Life Before CHT
Avvi was born on a bright spring morning in Maine, right on a little suburb on the coast. Her father worked the lighthouse there for sailors, and so she grew up on the shores, and helped her dad warn and guide people with the light. She went to a small school in the town and hung around in the town or the rocky shore in her free time. When she turned twelve though, every monster in the state knew she was there, because she was half titan. A satyr tried to get her to Camp HalfBlood, but he was killed, and instead her father took her to Camp Half Titan. There she has stayed for two years.
RP Example:
Slowly, Avvi etched her away to the beach, it was quiet and secluded that morning, the sky hues of red, pink, purple, and blue. Like a place that only belonged to her. She could the ocean beating slowly, his waves crashing against the sand. Back and forth, back and forth. She sighed listening to it's peaceful serenity. Smiling she moved across the warm sand to the water and sat alone at the edge of waves feeling them brush past her. It was calming, quiet here. A place of natural beauty, one of very few left in the world. She curled up underneath the sun and closed her eyes, listening to all the sounds around her that inspired life and creation. Only did this part of the Camp ever feel like home to her. Only did this place ever make her feel safe.
Why? She didn't know. She just knew that she loved it. She knew she wanted to stay forever in this world and never go back to the other one. Only here did she manage to let her gaurd down. All she wanted at moments like this, was to feel she belonged somewhere. She hated being closed in, feeling like everyone was breathing down her neck. She needed to be alone, in wide open spaces. Just like she was now. Alone, unguarded, unarmed, vulnerable. It wasn't a first for her. She was never guarded when she came to this place. Her eyes were still bright and happy, and she loved talking to everyone, but she also realized that being alone sometimes was really great, and so for now, she would watch the dawn.
(sorreh it's so short XD don't feel like writing much tonight...)